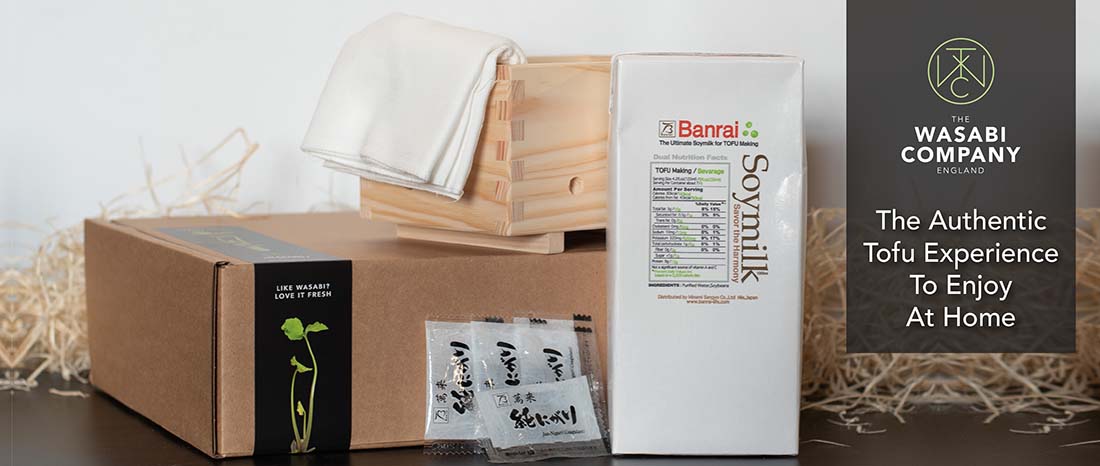 Tofu is a widely used ingredient around the world and while it has found new popularity in Western countries as a protein-rich meat alternative, it has been a staple ingredient of Japanese cuisine for centuries.

It comes in all shapes, sizes and flavours these days and you can find it in any supermarket – but do you know how it's made? We have the perfect kit to help you bring the genuine tofu experience to your own kitchen.
How is tofu made?
Very briefly, soy milk is combined with a coagulant and heated to make it curdle – this is then pressed into a block… sounds simple, right? You can squeeze your own soy milk from water-soaked soy beans, however our handy kit comes with Banrai Soy Milk for Tofu already, so you can skip a few steps this way!
---
So if you would like to make your own at home it's easy, and we've made it even easier by putting together a kit with everything you need!
Tofu Press
Our press is made from Hinoki cypress wood, which is commonly found in temples and shrines.  It's a natural, resilient wood that can withstand lots of water without losing any strength.
Banrai Soy Milk
Containing 11% soybean solids, this is the perfect milk for making a deliciously rich tofu at home. Completely natural, unsweetened and additive free.
Nigari Sachets
Jun-Nigari is a natural seawater derivative, which makes it the ideal coagulant for your homemade tofu.
Muslin Cloth
To line your press and wrap your finished tofu with. It is recommended that you rinse this with water before first use.
---
It's a simple yet rewarding culinary experience! You can use your homemade tofu in a variety of dishes, whether you like yours deep fried or in a miso soup you will never need to buy another block.