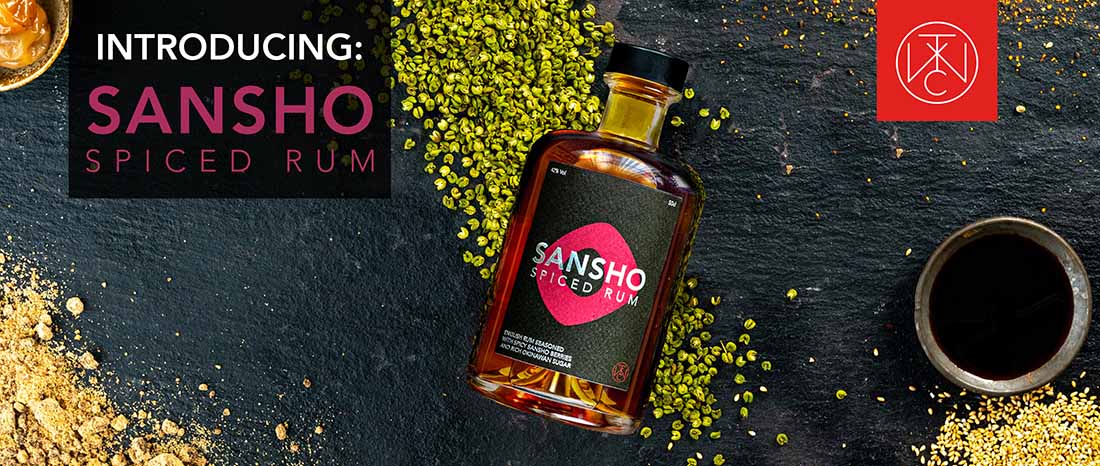 Are you a Spiced Rum connoisseur? Our new Sansho Spiced Rum is guaranteed to tickle your taste buds in all the right ways!
A true English rum blended with 6 different Japanese flavours, it is packed with exciting, mouth-watering ingredients that will have you crying out for more.
What Does Sansho Spiced Rum Taste Like?
With top notes of Smoked Soy and Sesame, giving light oak and tobacco flavours, the rum is truly brought to life by mouth-watering peppery citrus from the Sansho Berries and Christmas-cake sweetness from the Okinawan Sugar. The warmth of the Sansho and Togarashi Shichimi linger delicately on the tongue, and are beautifully balanced by the Umeboshi.

How To Use Sansho Spiced Rum
With such a warm, rounded flavour, this rum is perfect for sipping neat, however the deep flavours are delicious when paired with a sweet ginger beer. Our Japanese Dark & Stormy recipe utilises Sudachi juice to really level up this classic cocktail! For those who enjoy a simple long drink, you can't go wrong with a premium cola mixer – we recommend Gusto's Real Cola.

WIN SANSHO SPICED RUM AND ORGANIC GUSTO COLA!
We've teamed up with our friends at Gusto Organic to bring you a deliciously drinkable duo: Sansho Spiced Rum and Gusto's Real Cola. 
To win a bottle of expertly distilled rum and 24 bottles of the best cola you'll ever taste, simply head to our Instagram page and follow the instructions.
Get A Taste of Sansho Spiced Rum
If you need hard proof that this rum is as delicious as we say it is, why not add a miniature bottle to your next order? Our 5cl mini is the perfect way to get a taste for this enticing spirit, either for yourself or for gifting to a loved one!