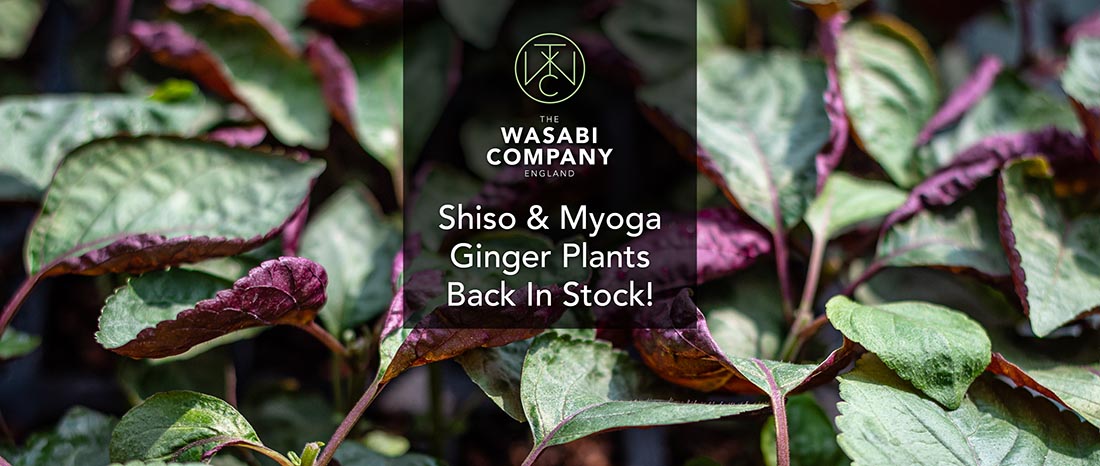 Two of your favourite plants to grow are BACK:
Shiso and Myoga Ginger!
Whether you want to grow shiso to add some herbaceous greenery to your landscape, or want to try growing your own Myoga ginger to use in the kitchen, both plants make great additions to any garden.
Shiso Plants
Shiso is a Japanese herb, belonging to the mint family. It is entirely edible and very versatile, used in savoury and sweet dishes alike. It enjoys full-partial sun with well draining soil; if you can grow Basil, you can expect to see great success with Shiso as it is of a similar temprement. It will reward you with a bountiful harvest of leaves in the summer, which can be used to cook with, as a garnish, or in drinks. We have two varieties available, green shiso and bi-colour shiso, which has a beautiful pop of purple on the underside of the green leaves.

Myoga Ginger Plants
While in the same family as stem ginger, Myoga Ginger is different in that is is a perennial plant that produces edible flower buds. These buds are most often used thinly sliced as garnish for sashimi. They are also perfect for miso soup, pickling and frying. The flavour is much more delicate than traditional ginger, and is a truly classic Japanese delicacy.

Expand Your Exotic Plant Collection
Wasabi Plants
Fancy growing your own wasabi stem at home for garnishing your homemade sushi? As it takes 18 months to mature, there's no time like the present! Pick up one of our wasabi plants to begin your journey with homegrown wasabi today.

Yuzu Trees
For a fresh pop of colour in your winter garden, yuzu trees are the perfect way to inject some life in to your space when it's most needed. Beautiful blooms in the Spring will give way to zesty fruits later in the year, which can be used in a variety of dishes.