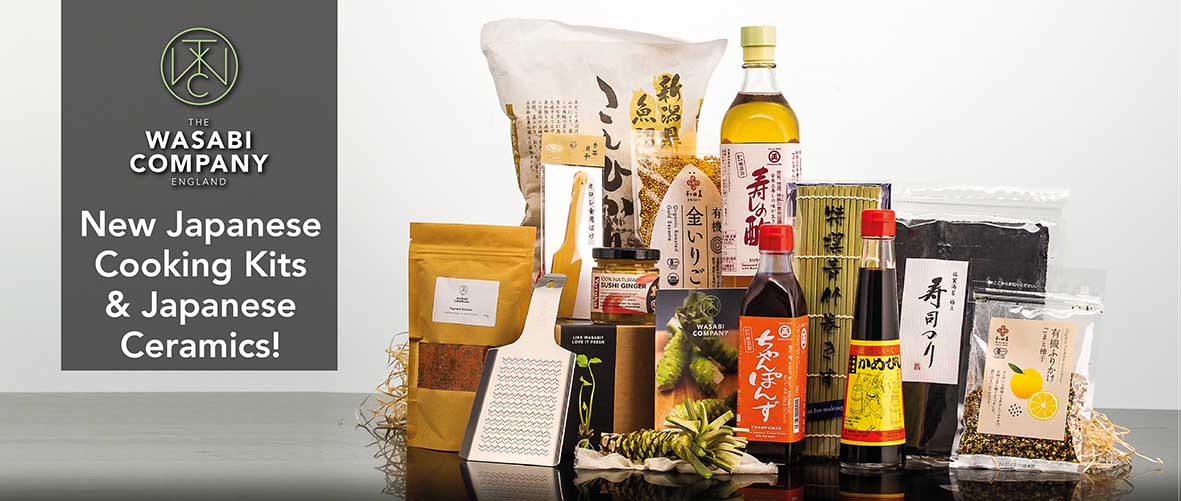 Looking for that perfect gift for a serious foodie? With so many cooking kits and hampers out there - how do you know which one will really nail it?
At The Wasabi Company all our Japanese products have been sourced with the needs of our top chef customers in mind. With the best restaurants in the UK on our customer list, you can be assured that every real foodie will treasure a Wasabi Company Gift Pack!
Here are a few of our new collections to help you chose, alternatively, to see our full range, CLICK HERE
3 Year Aged Soy Sauce with with Pot and Serving Dishes
One of our most popular soy sauces with ceramic soy pot and two serving dishes. 3 year aged Kamebishi soy is characterised by its dense velvety texture and rich flavour. This comes from a two-step fermentation process, after two years fermenting in cedar barrels, freshly pressed soy is added to the moromi mash to revitalise the fermentation. This is aged for a further year and the effect is a deep, complex flavour and a wonderfully rich texture.  
Miso Soup Kit with Bowls
Our top selling miso starter kit with the addition of two gorgeous bowls in bright, glowing "Peacock" green. 
Dive into the world of miso and create warming and enriching miso soup. Japanese Miso made with barley and soya beans, Kombu seaweed, Bonito flakes and mineral-rich Wakame tick every box on the miso essentials list. Serve in Japanese ceramic miso bowls to complete the authentic experience, Supplied with our guide on how to rustle up the ultimate winter warming miso soup.
This is also available as a Vegan kit, see here for more details 
Ultimate DIY Sushi Kit
For sushi aficionados who want the ultimate homemade sushi-making experience; premium quality products including crisp nori, aged soy sauce, five citrus Champonzu plus many other essentials.  Includes our own fresh wasabi with a preparation guide and the tools you need to create real wasabi paste.

Matcha Tea Set with Superior Grade Matcha Tea
Bring a little of the ceremonial reverence of Japanese tea making to your home.  This matcha tea set provides you with everything you need to create this unique and uplifting tea at home. Superior grade matcha tea is milled to an extremely fine powder, the tea is rich, energising and uniquely bittersweet. 
Set of 3 Sake & Umeshi Taster Pack
Three 50ml bottles, one each of Shio Ume, Shio Yuzu, Kyoto Umeshu to give you the chance to taste and savour the differing tones and highlights of these distinctly delicious and refreshing beverages.
Table Barbecue Set
Small but perfectly formed, this barbecue is for grilling Yakitori skewers at the table. The combination of the grill's thermal insulation properties and the long lasting, even cooking temperature of Binchotan charcoal will have your skewers sizzling for hours. Load the Bamboo skewers with your choice of meat, fish or vegetables. Think fondue but with fire!
Shichirin Table Barbecue Set
Break the habit of the barbecue as one person's domain, this grill is designed for sharing. Originally used as a room heater the Shichirin barbecue is a cosy way to grill, diners sit around the grill and cook their own skewers. Long lasting Binchotan charcoal means your meal can go on as long as you like; professional steel skewers withstand the high temperature and can be reloaded at will. 
Hungry for more?  See our full range of Gifts and Kits