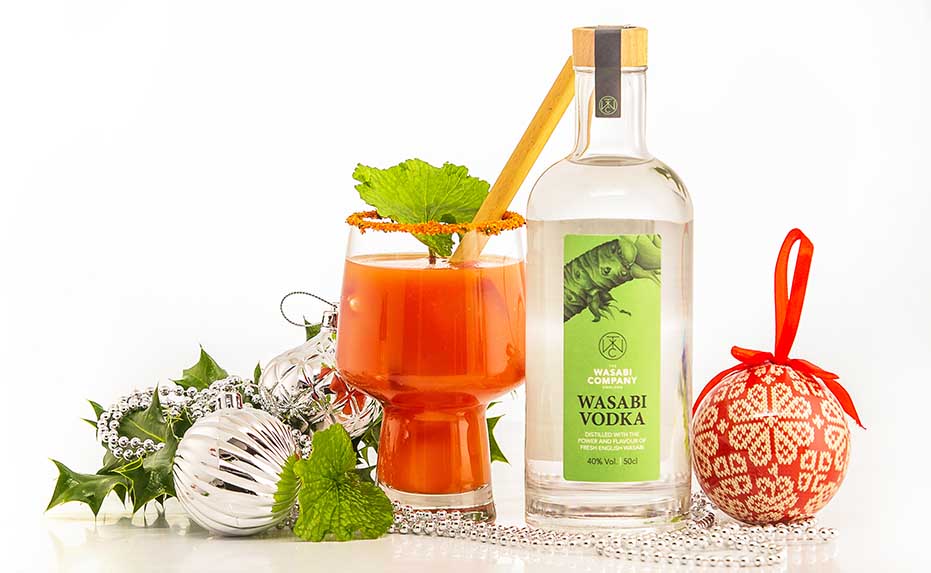 From Wasabi Vodka to Yuzucello, Junmai to Daiginjo Sake and Awamori to Okinawa Gin, we've got some great drinks to accompany your festive season, so let's tell you a little bit more about them.
A Brand New Showstopper for Your Celebratory Dinners & Cocktail Parties...
Every citrus-fan loves a good limoncello... well now we've encapsulated all that's wonderful about 'The Queen of Citrus', into our own original and stupendously refreshing liqueur, 'Yuzucello'.
We've taken whole yuzu fruits from Kōchi to distil our Yuzucello. The result is a unique citrus experience; taste it and you'll enjoy a tart and complex heady floral aroma accompanied by yuzu's signature notes of lemon, mandarin, grapefruit and lime bursting through your senses.
OUR OWN WASABI VODKA – DISTILLED WITH OUR ENGLISH GROWN WASABI
Distilled with the power and flavour of our fresh English wasabi, this small batch vodka captures and releases the flavour and fire of real wasabi. Made with real wasabi and nothing else, it is no wonder the flavour and pungent heat is so fresh and powerful. With artisan distillers working their magic from our old watercress bunching shed it was only a matter of time before we joined forces to create Wasabi Vodka. The result went way beyond anything we could have expected. 
Find out more about WASABI VODKA
Sakes for all occasions and tastes, Junmai, Daiginjo, Yuzushu & Umeshu
We are delighted to present a spectacular range of Japanese sake. Whether you are a sake sommelier or trying sake for the first time browse through the selection to find the sake that appeals to you. Choose from a pure rice Junmai, a highly polished Daiginjo, a balanced Ginjo, a flavoursome Honjozo or a fruit filled Umeshu or Yuzushu and discover the world of sake.
Find out more about our range of SAKE
Japanese spirits and Watercress Gin make a fine way to wind up or wind down an evening
Shochu is a distilled spirit with a typical alcohol volume of 20-25%, it can be made from several different raw materials including sweet potato, barley, rice and soba (buckwheat).  We currently offer a single distilled Barley Shochu and plan to expand this range soon.  
Awamori is made from long-grain Thai rice that is inoculated with black koji rice mould, fermented and then distilled, we offer two Awamori including four day fermented and 10 year aged.
Okinawa Gin is a premium craft gin from tropical Okinawa made from an Awamori base and 10 botanicals, including the bumpy Okinawa bitter melon.
This boutique craft gin in the Twisted Nose range from Winchester Distillery combines ten botanicals, with locally grown British watercress leading the way in making this a fragrant and refreshing spirit. 
Find out more about our range of JAPANESE SPIRITS and WATERCRESS GIN