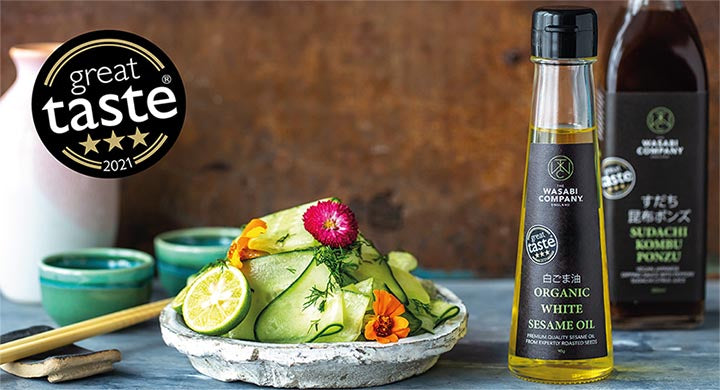 "This delicious, light and subtle yet characterful oil has a creamy mouthfeel and a superb lingering, toasty, nutty, sesame flavour. Indulgent and luxurious. Lovely stuff." Great Taste Judges 2021
This was just one of the fantastic comments from the Great Taste judges this year when talking about our brand new Organic White Sesame Oil.  We are over the moon to add another 3 stars to the 18 we already have across 9 other products.
This is the epitome of fine sesame oil. The exceptional quality and taste are a result of meticulous care taken at every stage of processing, from expert roasting of the seeds to the artisan methods used to press them. Enjoy a supremely delicate, bright, clear colour and wonderfully enticing flavour, so clean it can even be used on sashimi without overpowering the flavour.
What Does It Mean To Win 3 Great Taste Stars?
Great Taste are the most respected food products awards in the UK. 500 experts select the winners, only those deemed the tastiest receive 1, 2 or 3 Gold Stars. 
This year only 218 of 14,113 products tasted from 108 countries won 3 Gold Stars.