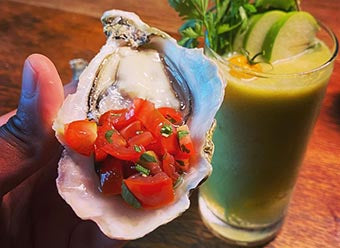 Green Bloody Mary (serves one):
Ingredients:
1/2 an apple
a generous handful of yellow and green cherry tomatoes
green tobasco to taste
green chilli (optional, for extra heat).
Worcester sauce to taste
wedge of lime.
ice
25-50cl wasabi vodka
Method:
Blend the tomatoes and apples, seasoned with tobasco and Worcester sauce, add a wedge of lime juice. Grab a glass, fill with ice, add vodka than green tomato juice, garnish to your liking.
Oyster Bloody Mary relish
Ingredients:
oysters
generous handful of red tomatoes (diced)
a few sprigs of coriander stems and leaf (finely chopped)
a tsp of wasabi vodka
agave
lime juice
tobasco and Worcester sauce (to your liking)
Method:
Combine all the ingredients (apart from oysters) and mix well.
Thanks to @relishinginfood for the recipe