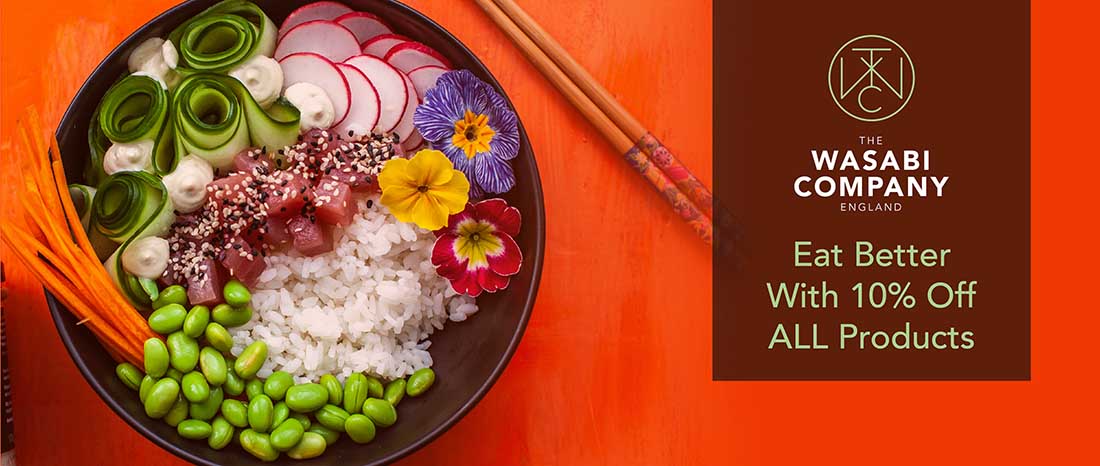 If eating healthily is on your to-do list for this year, we want to introduce you to some of our favourite health-boosting ingredients. They come in all shapes and sizes and mean that you can still enjoy some of your favourite recipes, safe in the knowledge that they are supporting your body as well as tasting delicious!
Don't forget, we have an exclusive 15% discount for the whole of January just for you when you sign up to our newsletter via the footer below, so you can enjoy all of these health-boosting ingredients at a fantastic price.
Fresh Wasabi
Historically, fresh wasabi was enjoyed for its anti-bacterial benefits; when served alongside sushi and other raw fish dishes, it could help protect against food poisoning. The Isothiocyanates (ITCs) responsible for this also have anti-inflammatory properties and potentially anti-cancer effects, too.

Seaweed
Vitamin and mineral rich, seaweed is well equipped to support your health. Iodine is vital to thyroid health, while carotenoids are important to the health of your cells. It is also a source of fibre and polysaccharides to help your gut health. So the next time you tuck in to your favourite maki, rest assured it's benefitting your body!
Miso
Fermented foods are widely recognised for their gut health benefits due to their probiotics. Miso is a perfect example of a versatile and easy-to-use fermented ingredient. It can be incorporated in many recipes to give you a little boost; use it in meat marinades, soups, stews, salad dressings, sauces and even desserts for a rich flavour.

Okinawan Sugar
We bet you weren't expecting to see sugar on this list! Surprisingly, Okinawan sugar has a high mineral content – it's potassium and calcium levels are hundreds of times higher than white sugar. The iron content of this rich brown sugar is particularly high, containing more iron than spinach! Enjoy your favourite sweet treats with the knowledge that they are serving your body AND your taste buds.
Drinking Vinegars
Similarly to miso, the fermented elements of many Japanese vinegars make them a popular choice for their health benefits. They possess antioxidant, antimicrobial and anti-inflammatory properties – it's common practice to take a drink of vinegar every day to support your body's health. There are many different types and flavours available, so you are bound to find a new favourite.
Shiso Tea
Like most herbal teas, Shiso comes with its own set of health benefits. In traditional medicine, shiso was used for a variety of health concerns, most commonly to calm stomach complaints such as cramps and nausea. With a delicate herbal flavour and fresh, citrussy notes, it's easy to enjoy a cup – hot or cold.