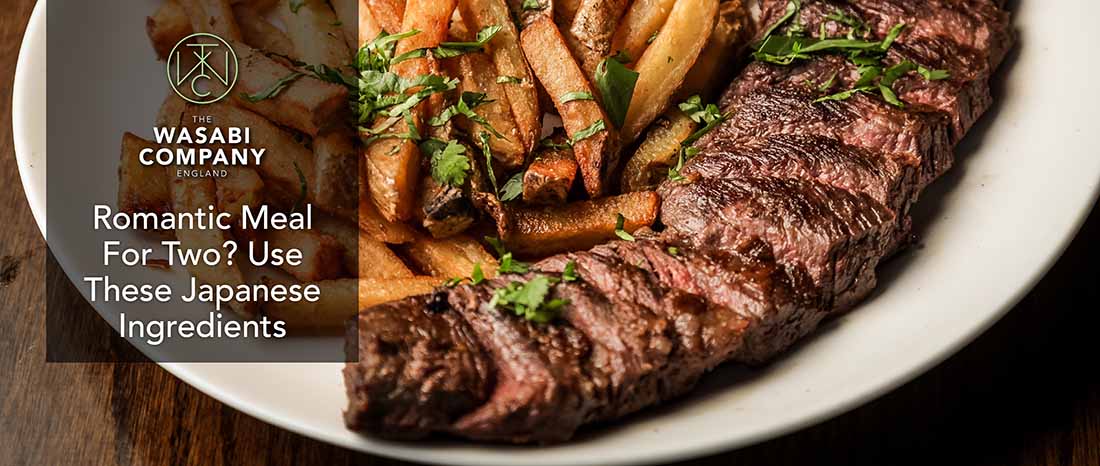 You don't need a reason to have a dinner date at home, but if you are planning a romantic meal for two this month, we have a little inspiration to help you put on a real feast for your loved one!
The Secret To Sumptuous Steaks
The secret to our ultimate steak lies in the combination of Japanese ingredients. It creates the most deliciously tender steak, oozing with flavour and infused with heaps of umami. 
For 2 steaks:
3tbsp White Miso
1/4 cup olive oil
1tbsp Wasabi Powder
1tbsp Kumano No Su
2tsp Sugar
Simply combine all of the ingredients in a bowl, and marinate your steaks in the mixture for at least an hour in the fridge, overnight is even better! The result is a sumptuous steak, packed with flavour.
Shiitake Mushrooms: A Vegan Delight
If meat isn't your thing, our premium Shiitake mushrooms are unrivalled for their texture, taste and raw umami power! They make an exceptional alternative to any meat dish and are bound to have you falling in love. 
Once you have rehydrated them, gently fry them in a pan with a splash of olive oil and some chopped garlic. Once they are mostly cooked, add a splash of fresh soy sauce to caramelise the mushrooms.
Togarashi Roast Potatoes
Add a kick of spice to your plate with a centuries-old traditional Japanese spice mix. Made with red peppers, yuzu peel, black sesame seeds, nori, sansho, poppy seeds and hemp seeds, this is a super simple way to add spice to just about anything!
Once you have par-boiled your potatoes, toss them in a little vegetable oil and a sprinkle of Togarashi Shichimi. Shake the baking tray to coat the potatoes and roast them at 180° for around an hour.
Sesame Coated Greens
Add a final flourish to your gourmet dinner with a side of sesame coated greens. It adds a delectable crunch to a much loved green, adding extra texture and flavour to your plate. 
You can use any greens for this, our favourite is tenderstem broccoli but you could use green beans, kale, pak choi, or a combination! Just before serving, sprinkle your cooked greens with a generous pinch of sesame seeds. For intense sesame flavour, add a teaspoon of sesame oil as well. Toss the greens to evenly disperse the seeds and enjoy!
Something Bubbly
Toast your loved one with a sophisticated sparkling sake. Pearl is a sublime alternative to Prosecco or Champagne, and will really help to round off the Japanese theme for your romantic feast! Or, if bubbles aren't your thing, why not peruse our selection of Japanese Spirits and Sake? There's something for everyone, on every occasion.