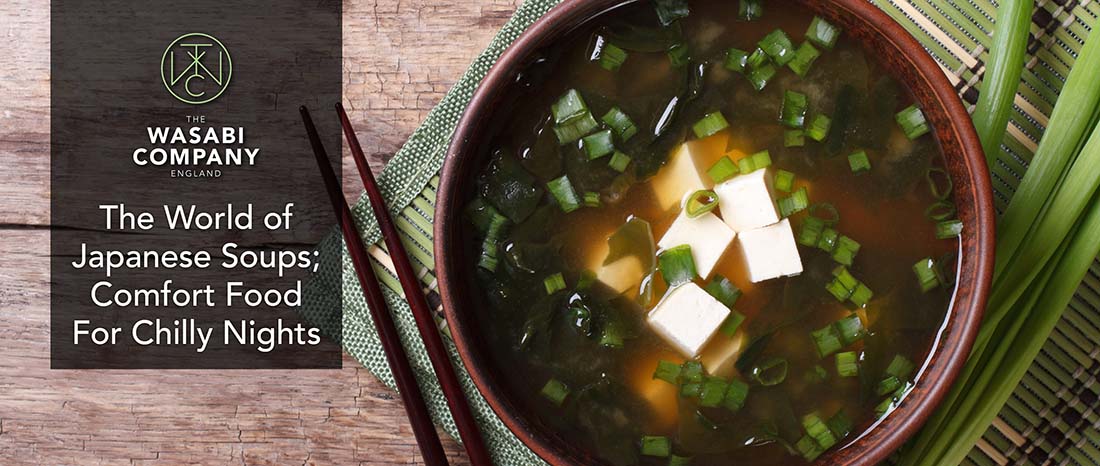 If, like us, you crave comfort food when the temperature is low, we have some incredible inspiration for hearty soups, hot pots and broths that will put a fire in your belly and a smile on your face!
Many of these ingredients are very common across most Japanese soup recipes, so once you've stocked up you will be able to make a variety of dishes.
These are some of our favourite soups that use hero ingredients to help fight the chills:
Miso Soup
Our ultimate miso soup recipe is on our website, but as the name suggests the star of this show is miso! The rich, salty, umami flavour it brings to any broth is totally comforting. No miso soup would be complete without kombu; when cooked in water it creates a flavourful stock that adds depth to your soup. The other ingredients are entirely up to you, whether you prefer tofu, mushrooms, spring onions or even some noodles, once you have nailed the perfect broth the possibilities are endless.
Gyoza Nabe
A deliciously hearty soup for chilly winter days, this is a delightful combination of tasty gyoza dumplings and nabe hot pot stew. Choose whatever filling you prefer for your dumplings, but the broth itself is given a full-bodied but perfectly balanced flavour by dashi and mirin working in harmony. Dashi is a fundamental ingredient in many soup recipes, so this is definitely a must-have!
Soba Noodle Soup
Noodle soups are a much loved meal in many countries, and with so many varieties of noodle it's no surprise that Japan does noodle soup so well! Soba noodles are made from buckwheat and can be enjoyed hot or cold. For this soup, a sumptuously savoury broth is poured over the cooked noodles. The broth is made with bonito flakes, which impart a rich and smoky flavour making it a tempting treat in colder weather!
Shabu Shabu
Getting its name from the motion of dipping thinly sliced ingredients in a hot broth to cook them quickly, shabu shabu is tasty, hearty and completely moreish! While traditionally done with meat, you can also used sliced tofu and vegetables for a vegan alternative. Cooked in a broth with udon noodles and vegetables such as carrot, cabbage and mushrooms, it is tradition to serve a dipping sauce alongside the soup; our sudachi kombu ponzu makes an excellent dip for vegetables!
Ramen Noodle Soup
Ramen is a really versatile dish that can be adapted to suit any tastebuds. The key ingredients are, of course, ramen noodles, your choice of vegetables and some flavourings. For the ultimate ramen soup we recommend using some shiitake mushrooms and smoked soy sauce to flavour your broth with. Both of these will provide incredible umami power and their own rich flavours, making ramen noodle soup your new favourite comfort food for this time of year.
A Final Flourish!
Most soup recipes will encourage you to use whatever toppings you prefer, but here are some of our favourites that pack a powerful punch of flavour: