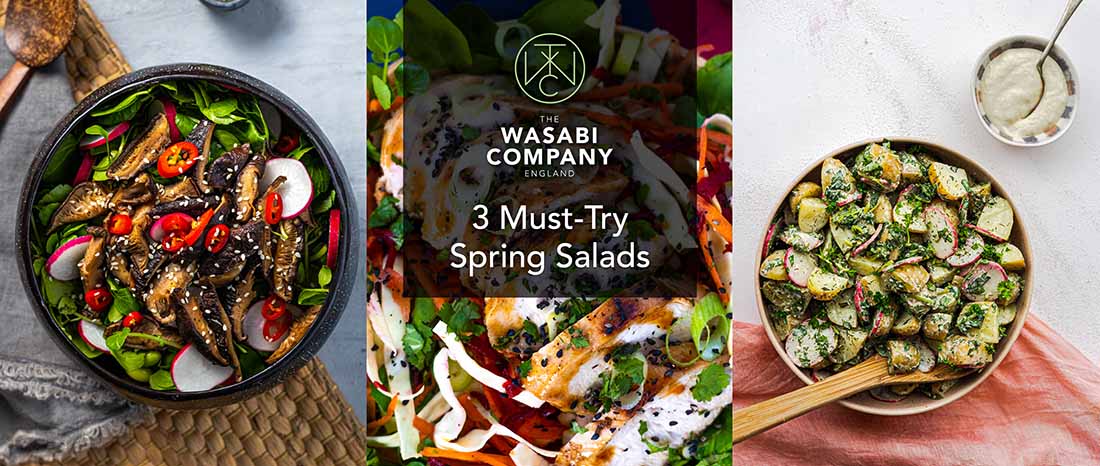 As we head further in to Spring, the temptation of luscious leafy green salads grows stronger and your Spring salad recipes are ideal for introducing some classic Japanese flavours and ingredients. We've teamed up with The Watercress Company to bring you 3 amazing salad recipes that showcase some of our favourite products. 
Shiitake Mushroom Salad Bowl
Our forest-grown dried shiitake mushrooms make a brilliant ingredient in salads; the chemical reaction that happens when you rehydrate them intensifies the Glutamate umami power by 7-8 times! This makes them a moreishly savoury salad topper, and when combined with fresh soy sauce, rice vinegar, honey, ginger and white sesame oil on a bed of peppery watercress, you get a tantalising salad with punchy flavour.
Potato Salad with A Wasabi Twist
Our award-winning range of condiments began with the inspired idea to put fresh, English wasabi in two classic sauces: mustard and mayonnaise. Our Wasabi Mayonnaise is perfectly balanced and very versatile; it's great with fish in a sophisticatedcanapé, but can also bring a new lease of life to your ham sandwiches… even Nigella Lawson enjoys a spoonful! In this case, it's used to shake up a classic potato salad recipe with a little fiery wasabi flavour. We have Vegan Wasabi Mayonnaise available too, so no one needs to miss out!

Miso & Sesame Chicken with 'Slaw
Two giants of the Japanese kitchen, miso and sesame, come together to make a succulent and tasty chicken salad. With leafy greens and a grated slaw of carrots, beetroot and cabbage, not only is this salad delicious but also packed with goodness! Miso is famously a gut-friendly ingredients due to its fermentation. We've use white miso in this recipe, but if you prefer to use red miso for a more intense flavour that would work just as well.