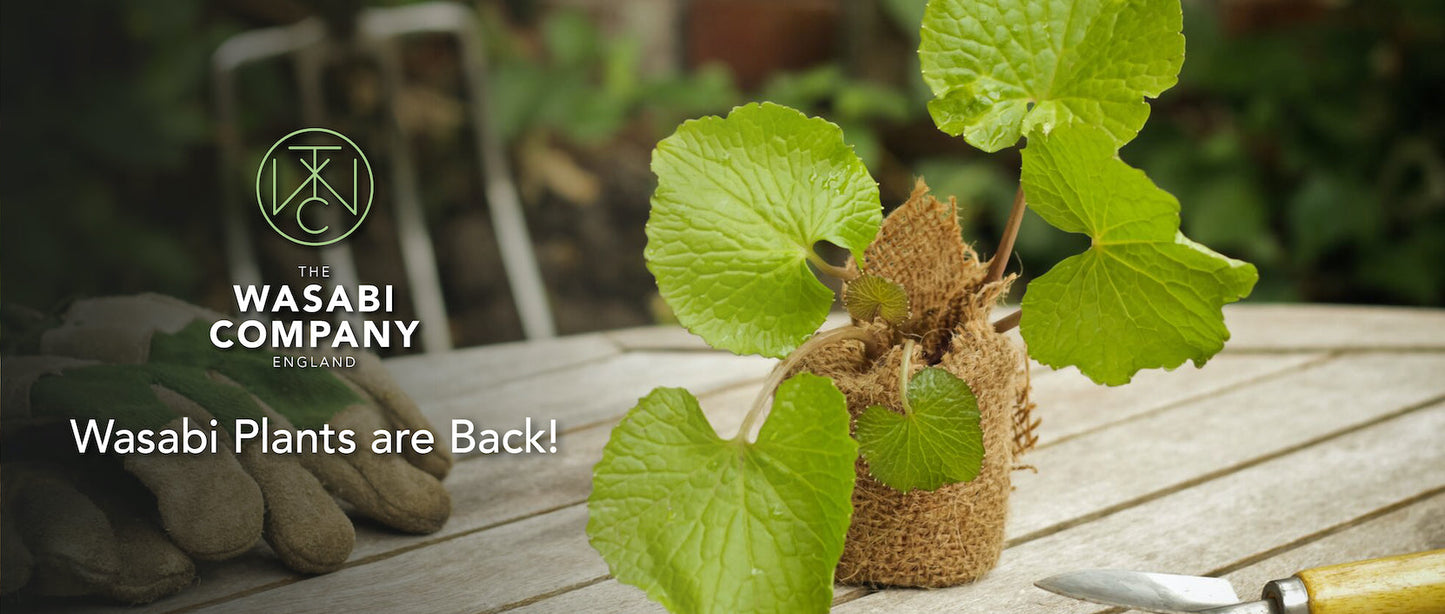 Wasabi Plants are Back for Spring!
We've missed bundling up our beloved little wasabi plants into packages destined for the gardens, allotments and kitchens of our customers around the country.
They're back now, and ready to meet you!
Wasabi plants are great fun to grow. Plant them in a shady spot and they'll be very happy in your UK garden.
 Gardeners, Cooks and Chefs Love Growing Wasabi
 They don't stop giving! Use the delicious peppery leaves in salads, sandwiches, soups, pesto, salsa, you can even stuff them.

They're exciting and different.

H

ow many people do you know with their own wasabi growing at home?

They brighten up shady spots.

E

njoy their pretty edible flowers as they herald the coming of Spring.

Imagine the pride of harvesting your own Fresh Wasab

i

Rhizome at the end!
Mother's Day 27th March
 Our Wasabi Pro & Grow and Wasabi Mega Freaks Gift Sets are great if you want to show your appreciation with something a little bit special and unique.
A Splash of Sunshine All Year Round With Yuzu Trees
The 'Queen of Citrus', yuzu has been finding its way onto an ever growing number of restaurant menus in recent years.
With its wonderfully aromatic zest and the explosive combination of notes from mandarin, grapefruit and lemon, it's no surprise chefs are in love!
Our Yuzu Trees bear vibrant yellow fruits in winter and stunning blossoms in the Spring. They can cope with temperatures down to -3C
Another great gift for food-lovers and garden-dwellers!
Japanese Cooking Kits & Gift Sets for Mother's Day
Our Gift Collections include exceptional products made by Japan's most revered craftsmen.
Cooking with ingredients like this is a real pleasure and joy, just ask our Top Chef customers!