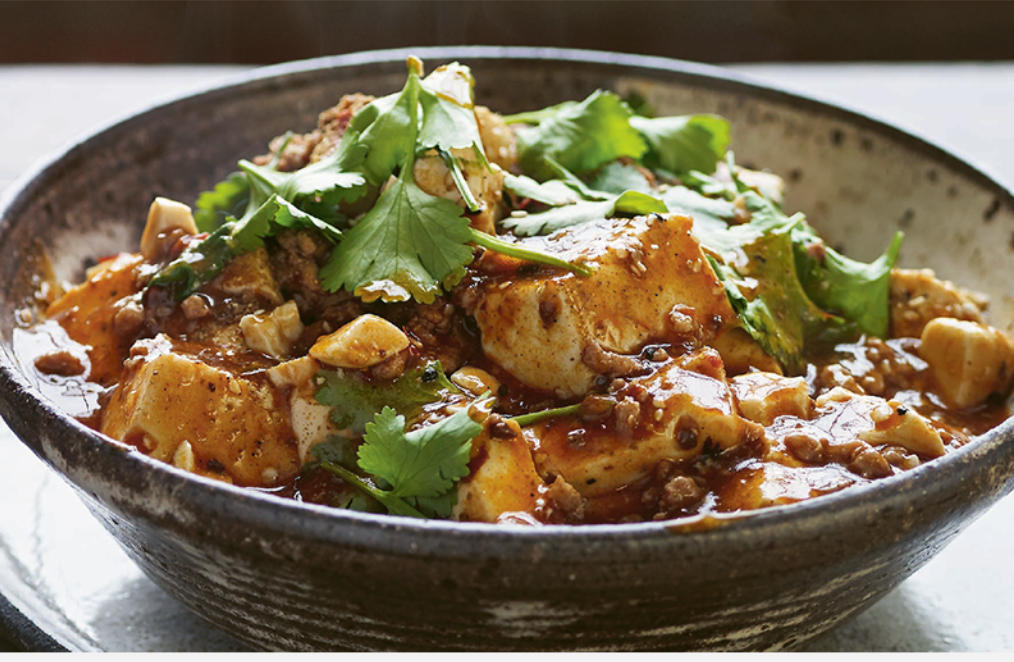 Serves 2
Ingredients:
300-350g firm or extra firm Silken Tofu
1 tbsp sichuan peppercorns
2 dried red Chinese chillies
2 tbsp vegetable oil
1 bird's eye chilli (or more, to taste), finely sliced
2 cloves garlic, finely sliced
10g ginger (peeled weight), finely shredded
150g pork mince
½ tbsp preserved black beans
40g doubanjiang (Sichuan chilli bean paste)
2 tsp sugar
250mL chicken stock
2 tsp sesame oil
1 tbsp cornflour, mixed with a little water
Soy sauce, to taste
2 portions thick-cut ramen noodles
1 small handful coriander, roughly torn
Toasted sesame seeds
Plenty of sansho pepper, ground
Method:
Cut tofu into 1-inch cubes and bring the water to a low simmer along with a pinch of salt. Carefully add tofu to the salted water and poach for 10 minutes. Remove gently with a slotted spoon.
Toast the Sichuan pepper and dried chillies in a dry frying pan until aromatic and beginning to colour, then leave to cool and grind to a coarse powder. Add the oil to the pan and place over high heat, then add the anchovy (if using) and the bird's eye chilli. Fry for a minute or two, then add garlic, ginger, and pork mince. Fry until the pork is brown, then add black beans, doubanjiang, sugar, and the ground Sichuan pepper and chillies. Cook for a few minutes, stirring often, so the flavours meld. Add chicken stock and sesame oil and bring to the boil, then stir in some (not all) of the cornflour-water mixture. Let the sauce boil for a few minutes to thicken; add more cornflour if you want it thicker (it should be quite thick so it clings well to the noodles). Taste the sauce and adjust seasoning with soy sauce. Gently stir in tofu, using a pushing motion with the back of your spatula and shaking the pan to coat the tofu without breaking it up.
Bring a pot of water to a rolling boil and cook the noodles al dente. Drain well and transfer to bowls. Top with the hot tofu mixture and garnish with the coriander, sesame seeds, and sansho.
Recipe is taken from Tim's book
Tokyo Stories