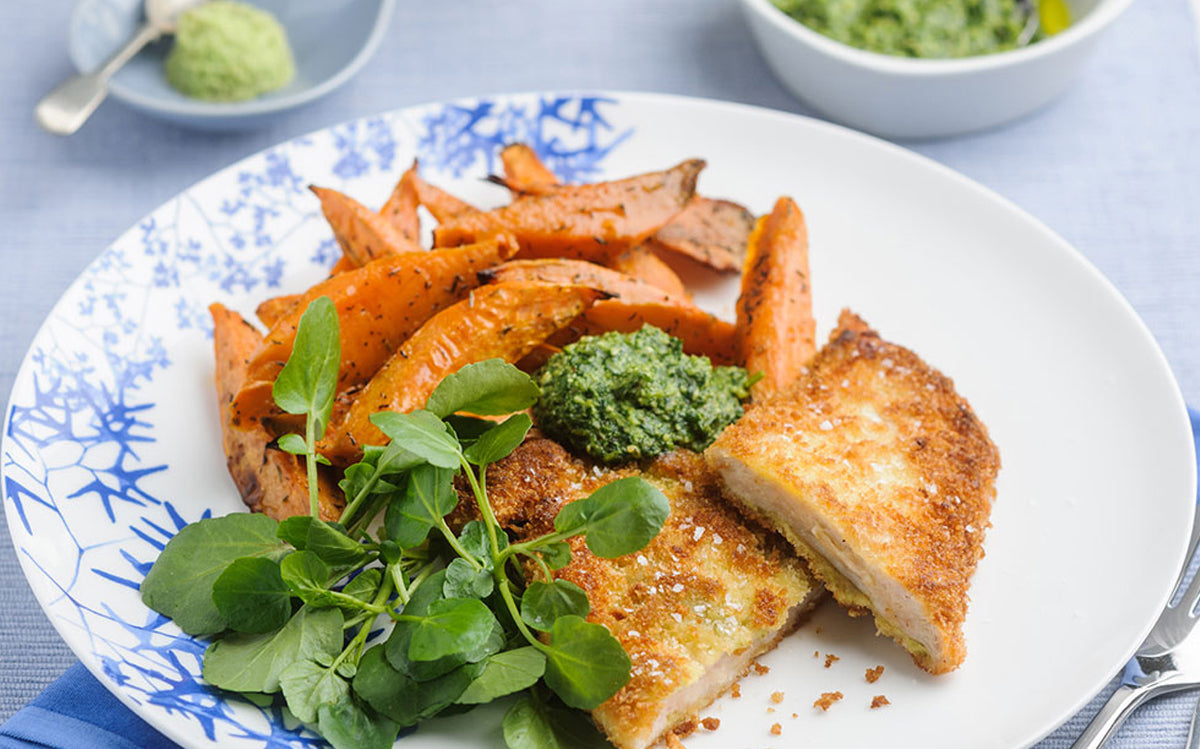 Serves: 2
Preparation Time: 20 minutes
Cooking Time: 25-30 minutes
Ingredients:
For the pesto:
25g walnuts
½ clove garlic, crushed
75g watercress
2 tbsp extra virgin olive oil
1 tbsp finely grated parmesan
about 2-4 tsp freshly grated wasabi
Juice of ½ a lemon, to taste

Salt 

& freshly ground black pepper
For the fries:
1 large sweet potato, about 600-700g
2 tbsp olive oil
1 tsp dried thyme
Salt & freshly ground black pepper
For the chicken:
2 small chicken breasts
1 heaped tbsp flour, seasoned with a little salt
1 egg, lightly beaten
50g panko breadcrumbs
Vegetable oil for shallow frying
To serve:
A little extra freshly grated wasabi for those who like more heat
Method:
Preheat the oven to 200°C.
Peel the sweet potato and cut into medium thick chips. Add to a roasting tin and toss in the olive oil and thyme. Season to taste with salt and freshly ground black pepper. Roast in the oven for 10 minutes, stir to turn over, then roast for a further 10 minutes until crisp on the outside and soft in the middle.
Whilst the potatoes are cooking, prepare the chicken. Cut each breast in half down the length, leaving you with 4 mini fillets. Lay one between 2 sheets of cling film and bash to a thickness of 1 cm. A rolling pin is the best tool for the job, or failing that a wine bottle. Repeat with the remaining chicken.
Set yourself up a little production line on the worktop, with the flour on a plate, the egg in a bowl and the panko breadcrumbs in another bowl. Working quickly toss each mini fillet first in flour, then dip in egg and finally roll in the breadcrumbs, setting each aside on a clean plate whilst you continue. Set aside whilst you make the pesto.
Make the pesto by placing the walnuts into a food processor and whizzing until ground. Add the garlic, watercress, olive oil, parmesan and wasabi and whizz to a smooth paste. Season to taste with lemon juice, salt and freshly ground black pepper. Set aside, un-refrigerated, for the flavours to develop whilst you cook the chicken.
Heat half a centimetre or so of oil in a large heavy based frying pan until it is really hot. Fry the flattened chicken pieces for about 3-4 minutes on each side, reducing the temperature a little if the breadcrumbs are darkening too much. Cut one open at the thickest point to check it's cooked.
Serve the crispy chicken with the fries and a generous dollop of pesto to dip everything in. Add a little more freshly grated wasabi at the table for extra oomph!