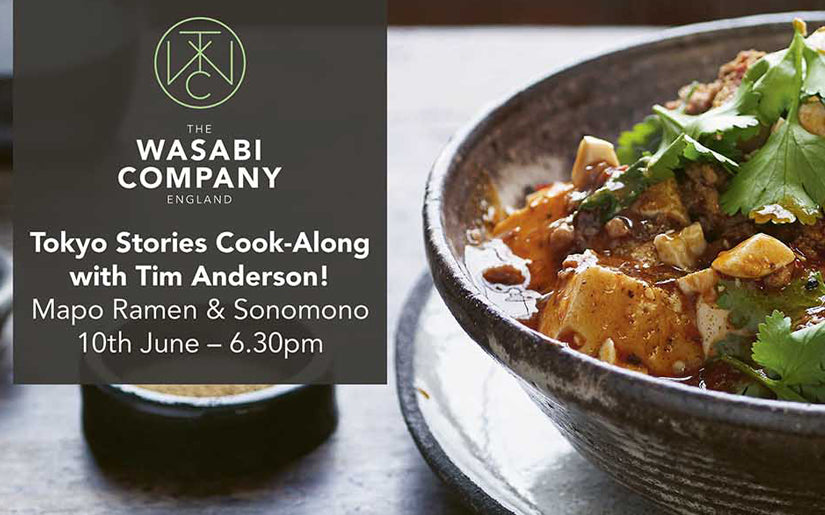 We are absolutely delighted to announce that our next Cook-Along is to be hosted by a top chef we've long admired… Join restaurateur, writer, radio personality, Masterchef winner, Tim Anderson.
He will be taking us through a culinary journey inspired by his popular book, 'Tokyo Stories', whilst we cook along with him to make Mapo Ramen and Sunomono salad together.
With 4 popular Japanese Cook Books to his name, Tim really knows his stuff when it comes to making Japanese cooking accessible to everyone. That's what we're all about at The Wasabi Company too, so we can't think of a better host for our next, ever-popular, Wasabi Company Cook-Along.
On the menu:
Mapo Ramen
If you've always wanted to make your own ramen - this really is one not to miss.  We'll explore the culinary relationship between Japan and China as we make Tim's delicious Mapo Ramen. In his words, the dish is "neither Japanese, nor Chinese, but also kind of both". 
Sunomono
A delicious cucumber and seaweed combo that will delight and refresh your taste buds, providing you with a 'go to' simple, yet impressive side (or 'sozai'), for all your dinner parties and get-togethers
This live Cook-Along is fully interactive, you'll be able to ask Tim questions as he takes us on his culinary journey.