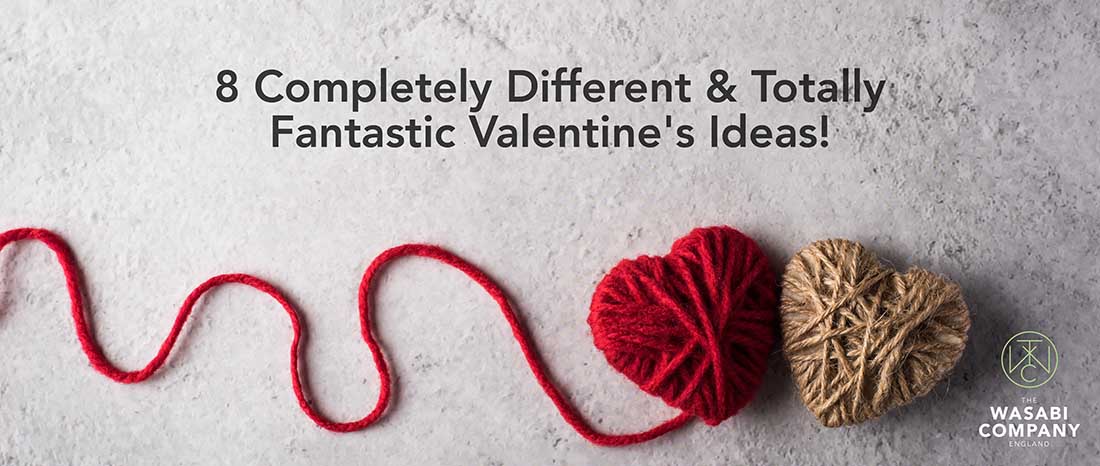 Looking for something a little bit different from the usual Valentine's offering? 
You're in the right place!  
If your Valentine loves to cook at home, loves to grow their own, or if they enjoy trying new and unique craft spirits - then look no further!
Gifts from the Wasabi Company are totally unique, and because we go the extra mile to source really special products, they make impressive gifts that show you've put thought and care into what the person you love, would really love.
Our 8 Favourite Gifts for Valentine's Day
1. Yuzu Trees
A tree is a wonderful gift, it's a gift that keeps on giving and grows along with your love. Our citrus trees add sunshine and fun and bear delicious and brightly coloured fruits in the winter that are fabulously exciting to cook with.
2. Wasabi Starter Kit
At Home Masterchef's love our Fresh Wasabi Starter Kits. Have fun in the kitchen and get spicy using real fresh wasabi with all the proper kit.
3. Ultimate Sushi Kit
Making Sushi is a lot of fun and really rewarding - rolling your own sushi with someone else is double the enjoyment - and even better, at the end you've got a romantic dinner ready to go! 
When you buy any of our sushi kits, you'll also get 50% off online Sushi Classes with our good friends at Yuki's Kitchen!
4. Ultimate Japanese Cooking Kit
The Masterchef of your kitchen at home will be absolutely delighted with the abundance of wonderful cheffy treats in this kit. All our products are sourced with the needs of our top chef customers in mind. These products are revered by chefs and are guaranteed to be relished by your special someone too.
5. Matcha Tea Set
You and your loved one really will be a Matcha made in heaven with this ceremonial tea set. Complete with everything you need to finesse the art of making Matcha tea the traditional way, it is the perfect way to enjoy an authentic, cosy experience together.
6. Pearl Sparkling Sake 
Bubbles and fizz are essential on Valentine's, so how about bringing a little twist to the table with Sparkling Sake instead of the usual champers or prosecco? Do you dare to be different? 
It makes quite an impression when opened: the bubbles rise and gently mix the sake, turning it from clear to cloudy! Silky, elegant, finely sparkling sake made in the traditional champagne method.
7. Wasabi Vodka
We've talked a fair bit about about spicing things up already - but it IS Valentine's and we are Wasabi growers! Our award-winning Wasabi Vodka is more than a little spicy though - it has a kick and delivers some serious wasabi fire!
8. Yuzucello
Our own Yuzucello has been a real hit since we launched it, recently!
Juicy, Zesty, Fresh and extremely moreish! With wonderful colour, this one is incredibly popular with citrus fans and is a sophisticated twist for lovers of limoncello.
This one is a great Valentine's gift too!