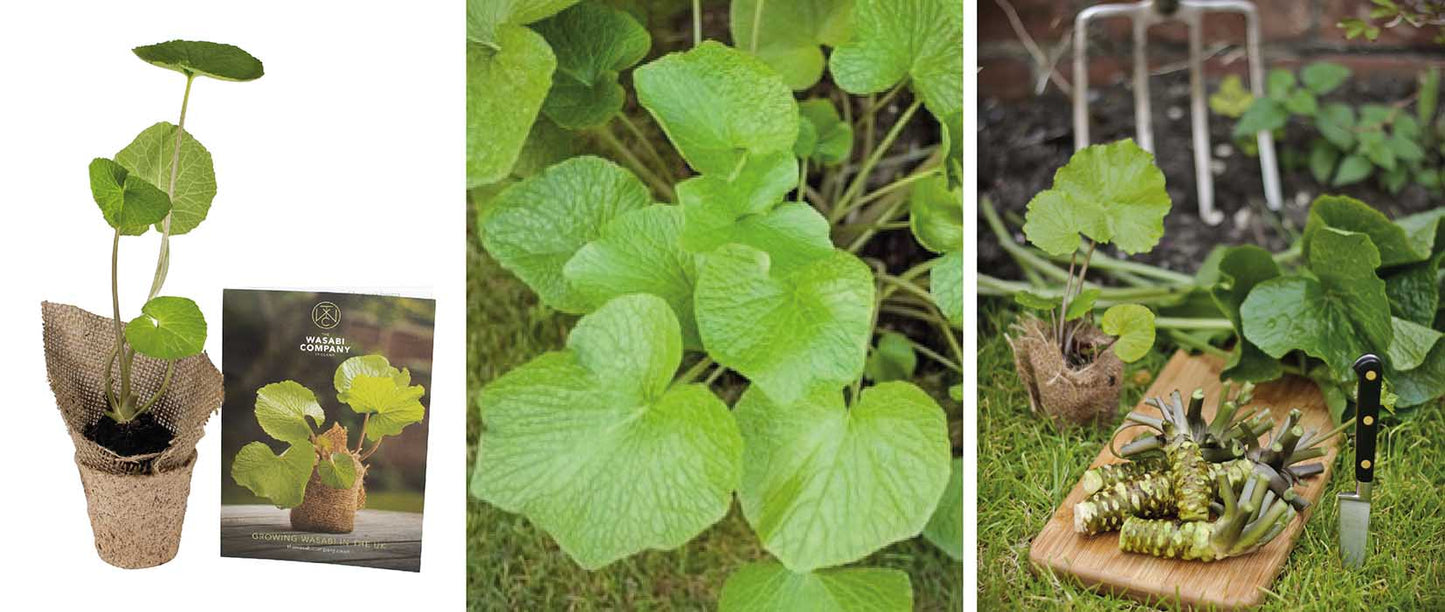 1.  It's Always the Right Time to Plant Wasabi.

You can plant Wasabi all year long but the two optimum times are early spring and early Autumn. That means now is ideal!
2. They're the Plants that Keep on Giving
The prized rhizome takes around 18 months until it's ready to harvest, but Wasabi plants will deliver throughout their growth cycle providing you with an abundance of delicious leaves and stems that are incredibly versatile and can be used in cooking and salads. Subtly sweet with a peppery heat, the spicy kick varies from plant to plant and even leaf to leaf.
Add them to salads, make pestos and salsa verde, throw into soups and stews at the end, wilt them like spinach, they're even strong enough to use as wraps.
3. They Look Great!
Wasabi's heart-shaped dark green leaves are attractive in pots, in your garden and as a stunning garnish on your plate. The pretty flowers will brighten up your day in late Winter and early Spring too.
4. They Have Very Few Pest Problems
Wasabi plants defend themselves very well against pests, making them a dream for gardeners. One of the reasons for the plant to be so spicy, is its evolutionary defense system against invasion from pests. The only pests you're likely to see are aphids, which can be easily washed off.
5. Edible flowers! 
Everyone's heart is lifted a little at the site of edible flowers in their food - it's just a 'thing'! Your Wasabi flowers will be one of the first to pop their heads up and tell you that winter is nearly over. Smile at your food as you decorate your plates and salads with their sweet and slightly spicy, pretty white flowers.
6. They Grow Indoors and Outdoors
They make great houseplants, patio plants, allotment plants and garden plants, in beds or in pots! The only thing they hate is bright sunlight. 
7. There's something special about the pride you feel when
you harvest your first rhizome.  
It's a feeling that's hard to put into words, a special kind of pride and accomplishment, ask anyone who's grown their own wasabi and they'll likely tell you the same. We frequently see posts on social media from happy and super-proud customers who have just harvested their rhizome.
Grate Your Own Fresh Wasabi Rhizome!
With all the great reasons we love to grow wasabi, let's not forget the primary reason - the taste of real wasabi! Finely grating your rhizome will kick start an enzyme reaction that creates the fiery, pungent heat and wonderful flavour of fresh wasabi. The flavour and pungency build to a peak after 5 minutes and remain for just 10 more minutes, so grate little and often and enjoy with sushi, sashimi, beef, salads, dressings. The possibilities are endless!
9. It doesn't End There
When you harvest your wasabi, you'll find some plantlets growing from the base of the plant. You can take these precious little beings and replant them, starting a brand new cycle of gardening joy... all over again! ????