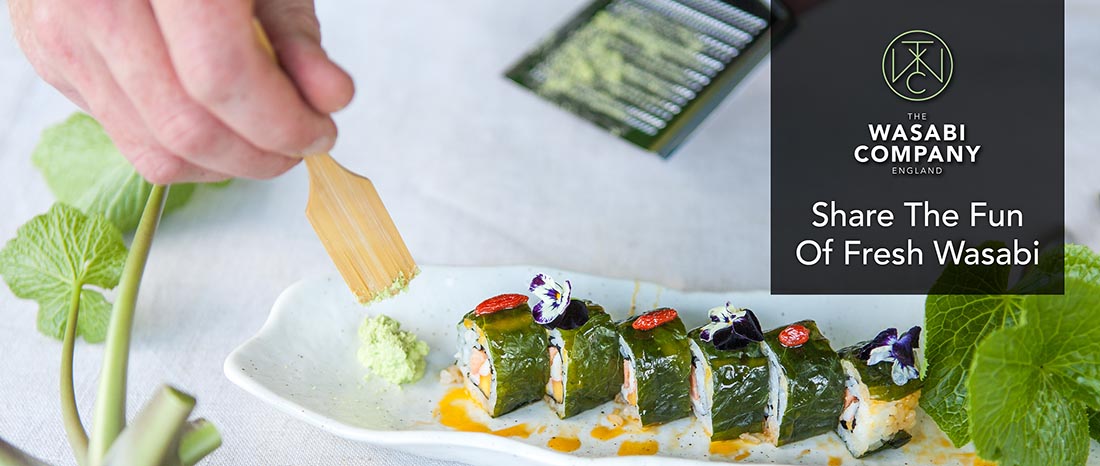 IMPRESS YOUR GUESTS WITH FRESH WASABI
It's time to introduce your friends to the power of fresh wasabi!
While "wasabi" paste is commonly available in supermarkets, usually this is a combination of horseradish, flavouring and colouring. The very act of grating wasabi is what generates that famous heat, so unless you have it grated fresh, it's unlikely you've ever had the real thing.
If you can think of someone who's missed out on the pleasure of freshly grated wasabi, this is your sign to invite them round to dinner and blow them away with your table-side skills!
It couldn't be easier to enjoy fresh wasabi. Whether you're preparing canapés, a fish dish or a sushi feast, wait until everything is plated and grate the wasabi stem at the table in front of your guests. This will ensure maximum flavour impact on their tastebuds and allow them to enjoy the theatrics of a Japanese staple. 
Everything you need to know about grating wasabi will come in our preparation guide with your order, but if you don't have one already, we recommend picking up a grater that is especially designed for wasabi. These graters have little teeth on them, which allow you to move the wasabi stem in a circular motion, providing the perfect peppery paste.