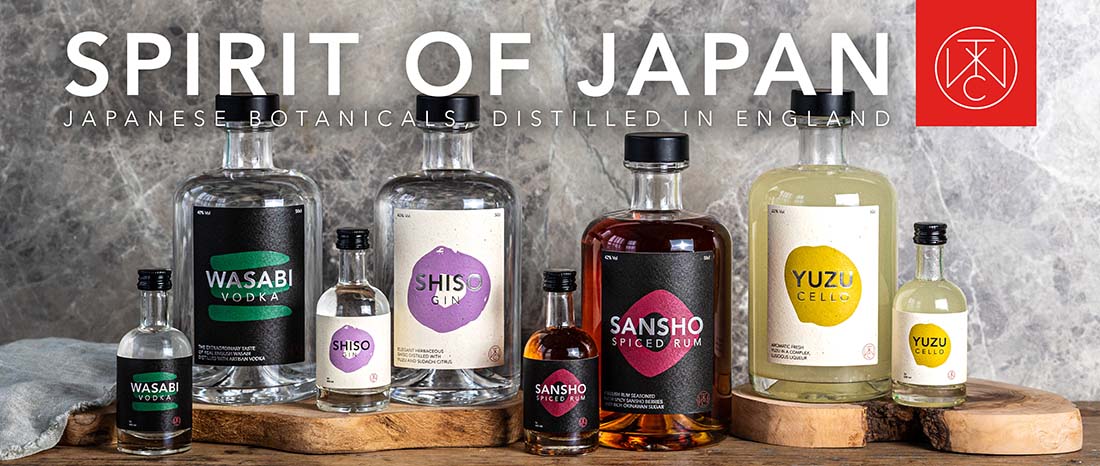 BRAND NEW & AVAILABLE NOW! 
We are absolutely thrilled to announce the launch of our new range: 
SPIRIT OF JAPAN
Japanese botanicals, distilled in England
We've been working hard with the expert distillers at English Spirit to create a range of exquisite spirits that encapsulate some of our favourite flavours from Japan, and they're ready to buy now!
Let us introduce you to the collection:
NEW & IMPROVED WASABI VODKA
A new & improved version – If you loved our old Wasabi Vodka, you will definitely enjoy this! This is a single distilled, unfiltered vodka packed with character. Vacuum distilled with fresh wasabi paste from our own farms in Dorset & Hampshire, meaning there is maximum fire and flavour in every bottle.
For real wasabi lovers, this is delightful served neat over ice, however it's also perfectly at home in a Bloody Mary cocktail or Martini.
NEW SHISO GIN
Made with our own Dorset-grown purple Shiso, this is a delicate yet flavoursome gin with a beautiful balance. 
Distilled with only 6 botanicals, this is a London dry gin that delivers a perfect balance between Japanese flavours of Shiso, Sudachi and Yuzu with English botanicals of Juniper, Coriander and Bay.
Shiso Gin makes for a very elegant gin & tonic and carries an incredibly satisfying texture. For an exciting cocktail, try a Japanese Tom Collins for a citrusy delight.
NEW SANSHO SPICED RUM
Bursting with Japanese flavours, this spiced English rum is made with 100% sugar cane molasses, making the perfect base for such complex flavours. Six classic Japanese ingredients combine to make a gloriously rich and layered taste: Sansho Berries, Okinawan Sugar, Togarashi Shichimi, Umeboshi, Smoked Soy Sauce and White Sesame. 
The peppery citrus from the sansho is utterly mouthwatering and perfectly complements the oaky, smoky, treacle flavours from the other ingredients. Again, this can absolutely be enjoyed neat over ice (in fact, we recommend it!) but would easily replace any spiced rum in your favourite cocktail recipe, such as a Dark & Stormy.
YUZUCELLO
A zesty explosion in every bottle! With a quality small-batch vodka base, this liqueur delivers the full and complex flavour of yuzu by using the entire fruit in the distillation process. This is one for the real yuzu-lovers as it harnesses all those flavours of lemon, mandarin and grapefruit found in fresh yuzu fruit.
As an aperitif or digestif, we think you'll find this far more refined than a limoncello. The perfect balance of zestiness and sweetness makes it a great option for a Spritz, too.
TOO MUCH CHOICE?  TRY ALL FOUR!
If you can't decide on what you'd like to try first, don't worry! You can buy our miniature pack, containing a 5cl bottle of each of our range, for just £22. This way you get to taste a little of everything before you pick a favourite. 
These little packs also make exceptional presents for the cocktail connoisseur in your life!
If you're feeling inspired, check out our soft drinks & mixers to start getting creative behind the bar! We'd love to see what you make at home, so don't forget to tag us @wasabigrowersuk and use the hashtag #spiritofjapan
After some more information?  Then download the Spirit of Japan brochure