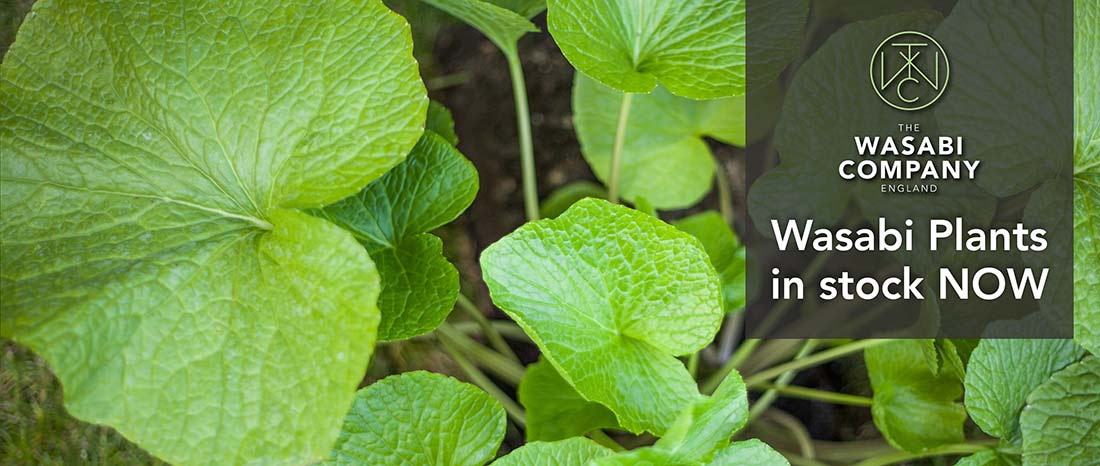 Wasabi plants are back… and they're bigger than ever!
Perfectly timed for Spring, our wasabi plants are back in stock and ready to make themselves at home in your garden. Now in two sizes, regular and large, a wasabi plant could be just the thing your garden is missing.
Our NEW large wasabi plants are only £9.95 each,
or stock up and save with 3 for £25.00 or 5 for £40.00!
Here's 3 reasons why we love growing them so much:
They Love The Shade
Unlike a lot of garden plants, Wasabi thrives in the cool, damp, dark areas of your garden. Got a shady spot next to the shed that's looking a little bare? That's the perfect place for wasabi! We sell both sizes individually as well as in multipacks, so you could even start a little wasabi patch. 
They're Exotic In English Gardens
With large heart-shaped leaves, these cool little plants will add a lot of interest to your garden. In Spring they produce pretty, delicate white flowers that brighten up both the garden and a dinner plate; they are edible and can be used to great effect as a garnish.

They're Perfect For Your Kitchen Garden
If you love growing your own, whether it be fresh herbs, fruit or vegetables, wasabi is a fantastic plant to introduce to your garden. Although it does take a little longer to become fully grown – 18 month to 2 years on average – the sweet green gold at the end is more than worth the wait! The satisfaction of harvesting your own wasabi rhizome and serving it at dinner is like nothing else.
We Have a VERY exciting announcement coming next week - make sure you open the newsletter on 1st April (no, it's not an April Fool!)