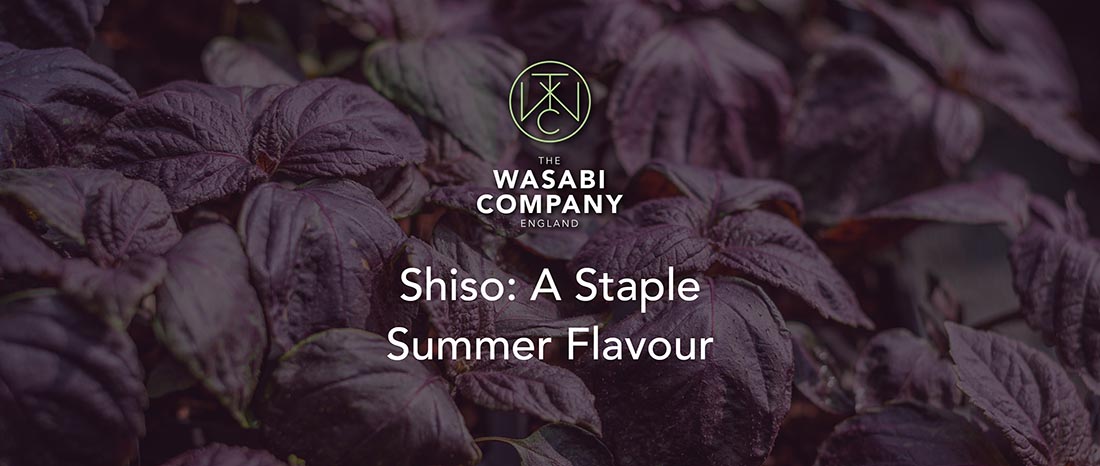 Have you ever tried the delicate leaves of a shiso plant? They are brimming with colour & flavour. They belong to the mint family with a flavour often compared to an earthy basil, making it incredibly versatile and a staple summer flavour.
 With such a beautifully complex taste, shiso can be used in both sweet and savoury dishes, from cakes to salads and more. One of the most popular ways to use it is in tea – so if you're already growing shiso at home, don't miss out on making this delicacy with your own fresh or dried leaves!
 Here are some of the best ways to get your shiso fix this summer:
Shiso Plants
Straightforward to grow, shiso makes an excellent addition to any garden. With requirements much the same as basil, a shiso plant is an easy way to add vibrant colour and texture to ornamental beds and herb gardens.
 It is an annual, non-hardy plant in UK climates and will grow fast in late spring, producing flowers in summer before dying with the first frost – at this time of year we recommend growing new plants in pots and bringing them inside before the first frost.
 Leaves and flowers are both edible, and can be used to bring life to salads, balance tart flavours in cakes or as a stunning garnish for sushi and sashimi.
Shiso Tea
Utilised for its soothing effect on the stomach, shiso tea is an ancient delicacy. Both green and purple shiso tea can be enjoyed in hot or iced drinks, but the purple shiso will produce a wickedly vibrant blue/purple colour. For a refreshing summer drink, we recommend iced purple shiso tea with a splash of yuzu juice, which will turn that blue/purple colour into a vivid pink. If herbal teas are your thing, you need to add this one to your collection!
 If you're already growing shiso at home, you can use the leaves to make your own shiso tea! Either using fresh leaves, or by drying a handful of leaves, chopping them finely and steep as you would any herbal tea.
Wadaman Organic Shiso Furikake
Bring earthy, herbal flavours to your favourite rice dish with one small sprinkle. Furikake is a versatile seasoning traditionally used on rice, although you can add it to just about anything for extra flavour and crunch! Wadaman Sesame are masters of sourcing, grading and roasting sesame seeds; these quality seeds are then mixed with other traditional Japanese flavours, such as shiso, to create a fine furikake. Why not try it on your next salad bowl?

Red Shiso Delight
100% natural with flavours of ume plum, Mikan mandarin and shiso, this juice is incredibly fresh with a slightly sour taste. Thanks to the beet sugar, it's perfectly balanced and not too sweet making it fantastic in cocktails or simply with sparkling water. It's also well suited to flavour sauces, jellies, bavarois, ganache, ice cream and sorbet – the perfect summer treat.
Red Shiso Rice Vinegar
Traditional rice vinegar is infused with shiso leaves and candied sugar by master vinegar maker Nakano San at Tobaya Suten. Owing to the aromatic notes of shiso, red fruits and hibiscus, this vinegar is excellent with daikon, turnips or white cabbage but, thanks to the perfect sugar balance, will also work wonders in desserts such as ice cream, fresh fruit salads and even cheesecake.